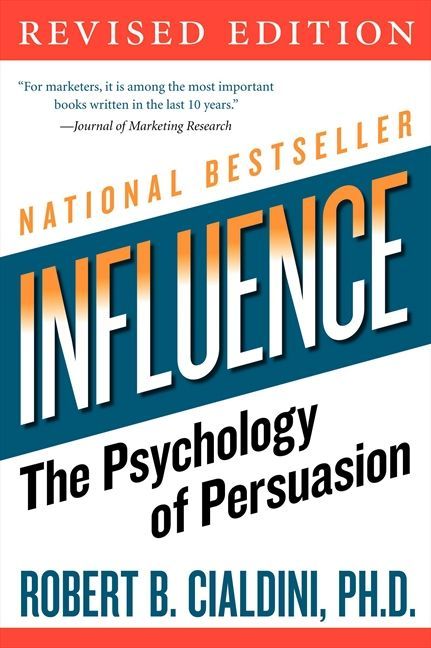 Influence: The Psychology of Persuasion
High-Level Thoughts
An all-time classic and a must-read for any marketer or psychologist. However, if you're someone who loves to learn about what makes humans tick or why humans commonly do things that don't make sense then I highly recommend you pick up this book.
Influence Summary and Notes
The book is packed with tons of interesting case studies and examples supporting these rules which I excluded in these notes. The following are the 6 weapons of persuasion.
#1 Reciprocity
Rule of reciprocation: we should try to repay, in kind, what another person has provided us.
There is no human that does not subscribe to this rule.
Even if you dislike someone, you will still feel the need to reciprocate.
If I want you to lend me $5, I can make it seem like a smaller request by first asking you to lend me $10.
When you go to Costco and eat a free sample you feel obliged to buy something you wouldn't otherwise.
Study shows, giving customers a single mint at the end of their meal typically increased tips by around 3%.
#2 Commitment & Consistency
We have an obsessive desire to be consistent with who we believe we are and what we have already done.
Commitment produces the automatic tape of consistency.
If I can get you to make a commitment, I have set the stage for your automatic primal consistency.
You stay married, even though divorce may be the best option because you've made a public commitment "Till death do us part"
Telling everyone your gonna run a marathon gets you out of bed every morning to run.
Written commitments require more work, and evidence shows that the more effort that goes into a commitment, the greater the influence.
#3 Social Proof
Principle of social proof: we use what other people think to determine what is correct.
it works well because as a rule, we make fewer mistakes by acting in accordance with social evidence than contrary to it.
Why Bystander effect occurs -> diffusion of responsibility — personal responsibility of each individual is reduced when more and more people are around.
in an ambiguous situation, the tendency for everyone to be looking to see what everyone else is doing is a phenomenon called pluralistic ignorance
#4 Liking
We prefer to say yes to the request of people we know and like.
Factors that cause us to like a person:
A) Physical Attractiveness
B) Similarity
C) Compliments -> we love getting compliments even if they're not true.
D) Contact -> we like things that are familiar to us. We often fear what we don't know.
E) Cooperation
F) Conditioning & Association -> we root for your own culture, sex, locality. Whoever you root for represents you, and when he wins, you win. -> Sport teams
#5 Authority
People tend to follow authority figures, no matter what the situation. (Milgram's experiment giving electrical shocks)
we are also trained from a young age to learn that obedience to proper authority is right and disobedience is wrong.
Authority allows the development of sophisticated structures for social control, trade, resource production, etc.
Example: movie "Catch Me If You Can" where con artist Leonardo Dicaprio exploits dozens of people all by wearing different suits.
#6 Scarcity
Opportunities seem more valuable to us when their availability is limited
Works because:
1) We have a mental shortcut that tells us that things that are difficult to possess are usually better than those that are easy.
2) Reactance Theory -> motivational arousal that emerges when people experience a threat to or loss of their free behaviors
Examples:
Couples who suffer parental interference fall more deeply in love.
Black Friday, Cyber Monday deals makes the whole country go crazy.
Limited time offers
Newly experienced scarcity is more powerful than constant scarcity.
Be consistent in your rules and discipline as a parent.
Liked this post? Get articles, recommendations,
and insights straight to your inbox.