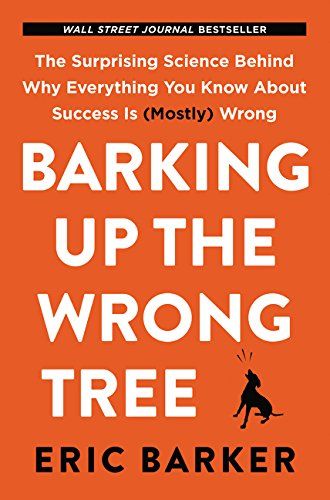 Barking Up the Wrong Tree
High-Level Thoughts
Super insightful book that debunks countless of myths and questions you've had when it comes to what makes up a successful person. Topics range from work-life balance, networking, learning when to quit and a lot more. Barker is also an incredibly talented writer so reading the book becomes fun rather than a chore. If you like books like such as Outliers by Malcolm Gladwell your gonna love this.
Barking Up the Wrong Tree Summary
Chapter 1: Do Nice Guys Finish Last?
the unfair advantage
700 hundred american millionaires: average gpa 2.9
Following the rules doesnt create success, it just elimates the extremes both good and bad.
No bad gene vs good gene instead "differential susceptibility hypothesis"
"The same genes that lead to bad stuff can actually lead to great stuff in a different situation.
Context makes the difference (Tipping point)
To be great we must be different. Being the best version of you. Haon
Know Thyself
Givers are at the top of succesful people, but there also at the bottom.
Chapter 2: Do Quitters Never Win? and Winners Never Quit?
Dr.Q - immigrant from mexico who was dirt poor and became the best brain surgeon in the world and also couldn't even speak a lick of English.
Navy seals - positive self talk
Optimists are more lucky because they see opportunity where others may not have seen it.
Grit = shifting view from pessimissim to optimism
Stories we tell ourselves
Page 76 quote "Studies show that when we relate to characters in fictional stories we are more likely to overcome obstacles to achieve our goals.
Suicides = lives werent matching with their story in their head.
Resume values - things that bring external sucess, like money and power.
Eulogy values are about character: Am I kind, trustworthy, or courageous?
Fate is something we can't avoid, destiny is something we must bring to fruition.
Willpower gets depleted if its a struggle, games change it to something else. If you are immune to boredom, there is nothing you cannot acoomplish. David Foster Wallace
Feelings of control kill stress.
Strategic quitting
Matt Polly at 19 moved to china to do kung fu, after his life became a success became a writer.
Lucky people maximize opportunity
Kindargeteners winning competition against engineers because they tried more. Fail fast and fail cheap.
Ch 4 It's not what you know, it's who you know
CEO's, top execs are extroverts
Extroversion leads to success, promotion, MBA's
Paul Erdos genius mathematician who was weird, who produced more papers then anyone else, who traveled around the world doing math with others.
Extroverts are luckier
"It's the quiet ones, you have to watch" Issac Newton ex
Extraversion was negatively related to individual profciency..
Top performers in sports, music, chess are introverts
Being an introvert is more predictive of good grades then IQ
Top sales people are ambieverts
Depending on the situation flip the switch of personality to become succesful
Healthy rivalry between MIT and Harvard created a radar that won the war
Networking = focus on becoming a friend, what challenges are they facing, ask them for advice, compliment them (better than sex or money) , Whom do you know that I should meet (superconnectors)
Judd Apatow, comedian with the mamba mentality, asked comedians to get interviewed for radio station for a hs (comedians werent that popular back then)
Need a Mentor, pg 151 entrepreneurs with mentors raise seven times as much money and their business experience three and a half times growth. - Smartcuts
Get noticed, get success and mentor will come, get multiple mentors
Hostage negotiators, empathy,Walter greene thanking the 44 most influential people in his life.
Ch 5 Believe in Yourself...Sometimes
Sometimes the mere appearance of confidence can be the difference between winning and losing.
Martial arts master who fooled himself thinking he can no touch knock people out
Confidence is powerful but its also dangerous
Letter I in share holder letter = downfall
Tomas Premuaiz said "Low self-confidence may turn you into a pessimist, but when pessimism teams-up with ambition it ofren produces outstanding performace.
Pessimistic entrepreneurs are more succesful, prob less happy tho
Throw out self confidence instead use self-compassion,
Norton the self proclaimed emperor
Increasing confidence = focus on the small wins, and your skill improvement = get better goals
Self compassion correlated with being wise
Ch 6 Work, Work, Work.. or Balance?
Ted Williams, mamba mentality, "I only lived for my next time at bat", virgin until his second year in the major leagues, it wasnt just how that he spend a lot of hours practicing, he was a perfectionist during the hours. Studied the game.
Price law 10 people out of 100 pros will make up 50% of the awards
Ambition alone is predictive of success, and motivation predicts career success better than intelligence, ability and salary.
Losing a job can affect happiness forever.
Einstein's horrible family life
Teamate asked Ted why he was so mad all the time. He responded: "You know why? I've got to be good every day. You don't have to be."
This guy got mad after he hit a .home run. Mozart was composing while his wife was giving birth.
Libri aut liberi = "if your very serious about creating things, you sacrafice family"
burnout occurs when were not passionate about the job were in, thats why passionate people might pass out from exhaustion but not burn out
Burnout is the opposite of grit (pessimism)
Sakubara defeated the Gracie family, playful attitude linked toward better grades.
Energy not time is the fundamental currency of high performance
Satisficing > Maximizing in terms of happiness
What do I want? If you don't decide the world will decide for you
Gengis Khan didnt react all the time to his surroundings , he always had a plan
Extra profit of surveyed entrepreneurs were planned schedule activities with employees
Liked this post? Get articles, recommendations,
and insights straight to your inbox.